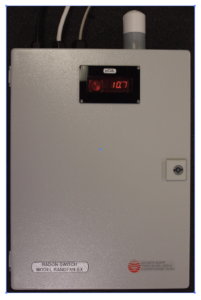 The RANDFAN-SX Radon operates as a simple stand-alone radon sensor controller to activate Radon mitigation fans and devices, fan controller, and alert staff.
The RANDFAN-SX will measure airborne radon as free Radon gas (with or without Radon Daughters at user's option) below 1 pCi/l. All data is stored.
- Verifies Need for Radon Mitigation Devices
- Wide Range - Digital Accuracy
- Sensitive for Occupational Exposure
- Flashing LED for Each Radon Pulse - Optional Audio Signal
- Built-in Computer Interface
All instruments are calibrated by accredited lab. User friendly calibration software is provided.